---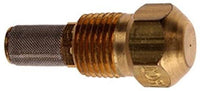 These brass misting nozzles have a 1/8" NPT male thread and work with 1/8" pipe fittings or any misting system that uses 1/8" misting nozzles. Built-In mesh screen filter helps prevent nozzle clogging.
The unique internal metering device produces a very fine mist with a broad cone spray pattern. The nozzle flow rate is 0.63gph@40psi, 1.00gph@100psi, or 2.24gph@500psi.

gph stands for gallons of water per hour
Higher flow rate brass misting nozzles and stainless steel misting nozzles are available by special order. We have brass and stainless steel misting nozzles that flow up to 15gph@100psi. Please contact us for more information and pricing. It usually only takes us a day to receive the special order nozzles if we do not have
them in stock.