---
Welcome to Aqua Misters
Aqua Misters designs, manufactures, and sells a wide variety of water misting products for mist cooling and other applications including dust and odor control. Our diverse line of misting products include misting systems, misting fans, water misters, portable mist cooling systems, high pressure misting pumps, and misting nozzles. Our company has extensive experience with residential, commercial, industrial, and other unique misting applications.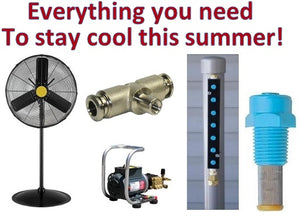 We Have Everything Misting Related
Our extensive misting product line has everything you need to stay cool this summer with a low pressure misting system on your patio. Our products are also ideal for commercial and industrial misting applications.
Some commercial uses for our misting systems include dust and odor control, concrete curing, and humidification applications. Put our expertise to work and let us handle your misting system needs!