---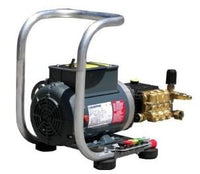 Please contact us for current availability or lead time.
Recommended # of Nozzles: 0.008"- 67-150 Nozzles | 0.012"- 56-112 Nozzles
This misting pump also doubles as an electric pressure washer when the pump is not being used in conjunction with your high pressure misting system. A high pressure hose, pressure washer lance, and cleaning nozzles are included.

This misting pump has a max of 1000psi and 3.0gpm and comes with a fully adjustable unloader valve to adjust the pressure and flow rate of the pump.

Pump appearance may vary slightly from that shown in picture.

Features:

• Revolutionary aircraft grade aluminum frame
• Pump: General triplex, direct drive
• PSI: 1,000
• GPM: 3.0
• 2.0 HP Industrial duty motor, ODP design
• 115 Volts, 18.0 Amps, 1 Phase
• 36' Power cord is Ground Fault Circuit Protected (GFCI)
• Adjustable pressure unloader
• 50 Mesh inlet filter
• Thermo-Sensor (prevents overheating in bypass mode)
• Hand Carry Frame, no welds
• Padded shock absorbing feet

Included Pressure Washer Accessories:

• Gun/wand assembly with quick connects
• 50' High pressure hose with quick connects
• Chemical injector assembly with quick connects
• 4 Color coded QC spray nozzles
• 1 Color coded chemical nozzle