---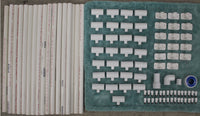 The 50' PVC Misting System Kit comes with enough pre-cut piping and fittings to mist up to 50 feet. You can buy multiple kits and join them together if you need to make longer lengths.

PVC Misting Systems are the most affordable and are perfect for patio misting and greenhouse misting. They are also ideal if you need to have a long length misting system due to the larger diameter piping. All plastic components, including the misting nozzles, are chemical, corrosion, and UV resistant.

Each misting nozzle has a built-in stainless steel mesh filter to prevent nozzle clogging. Each nozzle consumes 0.63gph@40psi or 1.00gph@100psi. Unique mounting clamps mount in place permanently but allow you to unsnap the misting system if necessary.
Connects to a garden hose or hose faucet. No special pumps required.


INCLUDED WITH THE 50' LOW PRESSURE PVC PIPE MISTING SYSTEM:

(1)         PVC hose swivel
(25)       Pre-cut 18" pieces of schedule 40 PVC pipe
(24)       Misting Tees
(25)       Misting Nozzles with Built-In Filters
(1)         1/2" 90º elbow (to end misting system)
(1)         1/2" to 1/8" PVC bushing (installs into elbow to install misting nozzle at end of system)
(17)        Mounting clamps

Due to shipping restrictions we do not include PVC glue.